HEAVY DUTY TROLLING BLOCKS
Loomis Marine's popular wire and rope sheave trolling blocks use state-of-the-art materials and a unique design to create a low friction, low wear surface that is virtually indestructible. Our improved self-lubricating Oilite bushing system is available in a variety of mount options including; 1,500 pound break test corrosion resistant swivel, or a 2,500 pound break test 2/0 galvanized chain.

The reinforced nylon, four inch block has been lab tested to 3,700 pounds not including swivel or chain, and the six inch block tested at an incredible 5,800 pounds not including swivel or chain. Our tough marine grade plastic sheave is designed to withstand heavy wear from steel trolling wire.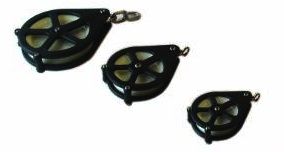 *For distributor-only pricing & orders.