PURSE RINGS (NON-METALLIC)
Loomis Marine Purse Rings improve maneuverability and extend the use-life of purse lines. Their self lubricating properties work like oil to help purse lines slide freely through the rings. Reduced abrasion means lines last longer. Molded with a patented thermal plastic polymer, our purse rings are designed to withstand extreme stress loads. And because they are non-metallic, these purse rings won't scratch hull paint or fall susceptible to the effects of electrolysis on aluminum decks.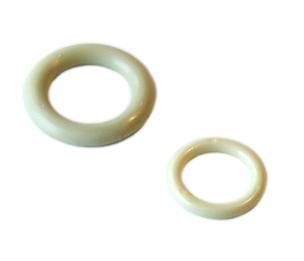 *For distributor-only pricing & orders.
8"
(9 1/2" OD, 7 1/2" ID)
203mm
(241mm OD, 190mm ID)